Albumiphy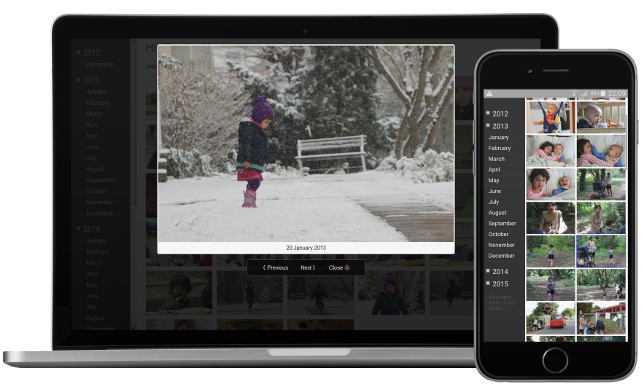 A simple static image gallery:
Calendar layout
Responsive
Bookmarkable URLs
Optimised for the web
Albumiphy uses the timestamp encoded in exif data to arrange images by month and year. Images are scaled for the web coming in at around 50-100k each. Scales to large libraries and should support 10k+ images.
Here is an example gallery.
Requirements:
Installation:
Download the .tar.gz

> tar -xvzf albumiphy-v1.tar.gz

In your .bashrc file add the full path for the bin directory extracted above to $PATH
The code is also available on GitHub.

Create album:

> cd /path/to/images
> albumiphy.py --title="Jones Family Album"

Then point your web browser to:

file:///path/to/images/Albumiphy/index.html

and (hopefully) voila!

For a full list of options do:
> albumiphy.py --help
Help and feedback:

richard.hillbar max100@gmfoo maxail.com
Last updated Oct 2016